I was reminded recently that this year's race date, October 14, is also the birthdate of both my grandfather and his oldest child, Nora. My mom (now 93) is the youngest of Granddad's 14 children, and in talking with her, I saw how much it would mean to highlight this particular synchronicity.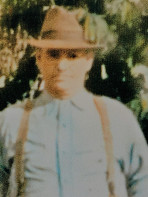 Granddad was born on October 14, 1879, and Aunt Nora was born on the same date in 1901. Granddad's wife and my grandmother, Rachel, died when Mom was 3 years old, after which Granddad raised all 14 children on his own in a two-room house in Lake Point, Utah, next to the Great Salt Lake.
Granddad worked for Kennecott Copper, as did my father and most of my uncles. Later on he had a small subsistence orchard and farm in the western part of Salt Lake valley. Just imagine the daily strength it took to support all those kids while working full-time at the mine and raising his own food.
Think of this when you are pushing past your own perceived limits. I hope you'll join me in dedicating this tough race to those among us who have faced the most daunting of challenges. While I'll be thinking of my granddad, I hope you'll think of whom you want to personally honor, including those who have been so terribly harmed by the recent hurricanes and the Las Vegas tragedy. In Granddad's and their honor, run this race with all your heart, and stay tough!